We price match

Email us for a match

In-House Experts

We know our products

Added Value

Free basic installs for select purchases

USA Delivery

Free shipping for orders over $99.99 (restrictions apply). Flat $8.99 Shipping for under $99.99
KFI ASSAULT POLARIS KIT 3500LB ASP-35
KFI ASSAULT POLARIS KIT 3500LB ASP-35
KFI Polaris ATV Plug-N-Play Winch Kit 
Whether it's on a winding trail, plowing snow or deep in the mud, a reliable winch is the most important accessory a rider can have. Equip your Polaris ATV with a KFI Polaris ATV Plug-N-Play Winch Kit and feel confident you can pull yourself out of any situation. Our team here at KFI Products designed this winch kit with the user in mind, this kit comes completely assembled and ready to be installed. This kit is equip with an Assault 3500lb KFI Synthetic Cable Winch pre-installed in a Polaris ATV Winch Mount, Electric Contactor and a Handlebar Mini-Rocker. Both the Electric Contactor and Handlebar Mini-Rocker are designed to plug directly into the Polaris OEM Winch Handlebar Wiring Harness making this kit an extremely easy to install and a user friendly product. 
Fitment
Scrambler 850 '13-20
Scrambler 1000 '14-18
Sportsman ETX '15-16
Sportsman 400 '11-14
Sportsman 450 '16-20
Sportsman 500 '11-13
Sportsman 500 Touring '11-13
Sportsman 550 (XP) '09-14
Sportsman 550 Touring '10-14
Sportsman 550 X2 '10-14
Sportsman 570 / SP '14-20
Sportsman 570 Touring '14-20
Sportsman 570 X2 '15-20
Sportsman 800 '11-14
Sportsman 850 (XP, Highlifter) '09-20
Sportsman 850 Touring '10-20
Sportsman 850 X2 2011
Sportsman 1000 XP '15-20
Sportsman 1000 Touring '15-20
Sportsman 6x6 Big Boss '11-20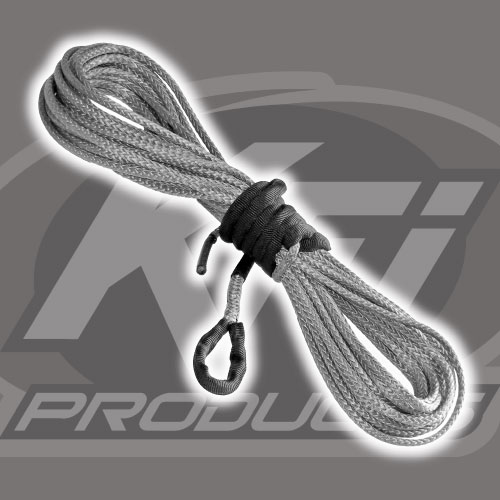 50' Synthetic Cable with 5' protective sheath. #SYN19-S50
---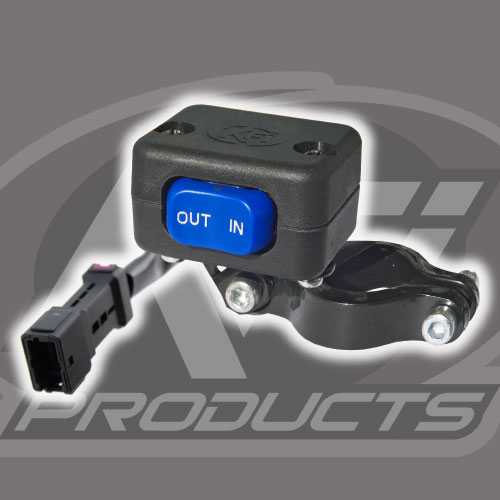 Take control of your winch with the all new Polaris ATV Mini Rocker Switch (#AP-MR). Designed to work with Polaris OEM pre-ran harness for easy install.  It comes with an adjustable bracket to mount onto your ATV's handlebars. This allows you to control your winch with just the touch of your finger, never having to let go of your handlebars.
---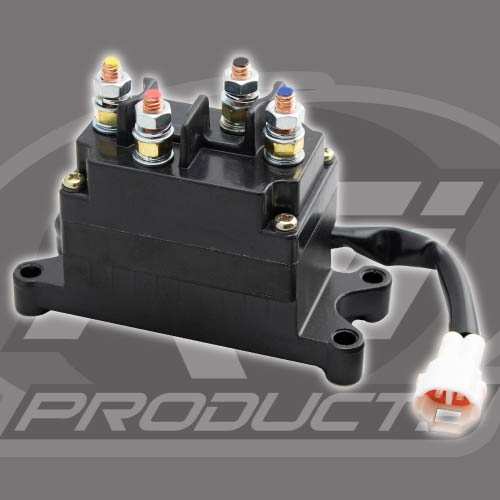 The included all new Heavy Duty Electric Contactor (#AP-CONT) is designed to work with your Polaris OEM pre-ran harness and protects your ATV's electrical system. This part is what switches the power distribution of your winch that is controlled from your switches.  This contactor comes pre-installed and wired to rear of the assembly, set-up for the 850 and 1000cc machines.  Relocation to the side by two simple screws will set this kit up for the smaller cc ATV's.
 
---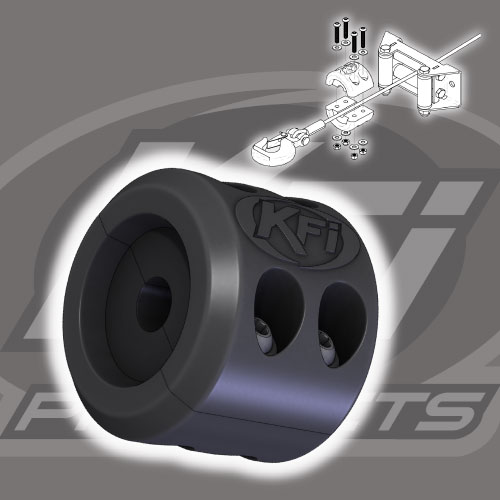 Included is our KFI Split Cable Hook Stopper (#ATV-SCHS) with the following benefits:
Eliminates wear and tear on your rollers from the hook with can cause cable wear.

Eliminates hook clatter from going down the trail.

Protects the winch motor and gears from pulling the cable in too far and bottoming out on the rollers.

Keeps tension on the hook to eliminate the cable becoming loose.

Also has slits designed in it to work as an anti-kick back for the cable if your cable was to snap.

Looks great.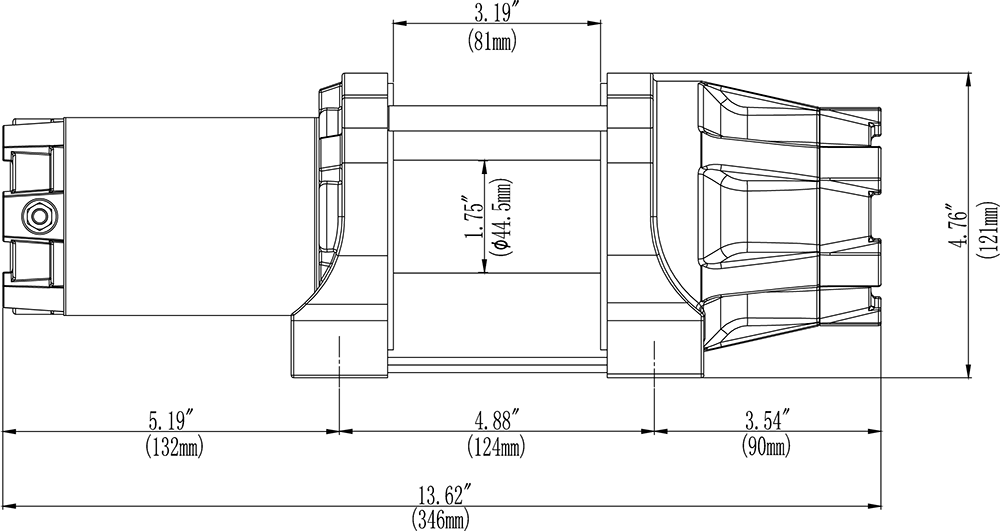 ASP-35 Specifications
Model ASP-35
Rated Line Pull 3500 lbs.
Motor 12V DC, 1.15 hp Permanent Magnet
Gear Ratio 180:1
Gear/Transmission All-metal Planetary Gear Drive
Brake Dynamic and Mechanical
Clutch (free spooling) All Metal Cam Activated Freespool
Drum Size 1.75" (D) x 3.19" (L)
Synthetic Cable 3/16" (D) x 50.0' (L) Smoke color
Fairlead Multi-directional Roller
Control Deluxe Handlebar-Mounted Mini-Rocker Control Switch
Winch Dimensions 13.62" L x 4.44" D x 4.76" H
Mount Plate Included Model Specific Mount
Mounting Bolt Pattern 3.00" x 4.875" (4-Hole)
Recommended Battery 12 Amp/hour minimum
Warranty 2 Year Limited Lifetime Warranty
Winch Weight 26.00 lbs. (complete kit)
All Items Ship From The USA
Shipping and Delivery
We ship from a vast distribution network strategically placed in different regions within the USA to provide fast shipping times to most locations. Sometimes your order will arrive in separate boxes if you order multiple items due to many inventory locations. Some items may ship directly from the manufacturer to you.

Most items are kept in stock, however some products are custom made to order and require manufacturing time and will likely ship directly from the manufacturer.

Expected ship dates are our best estimate based on past shipping times and are more than 90% accurate. Most products ship within 2 business days, unless otherwise noted on the product page. Should an unexpected delay occur, we will notify you by e-mail (or letter) of the new projected shipping date.

In-stock items usually ship the next business day (weekends and holidays are not considered business days).

Please allow an additional 1 to 5 business days after the shipment date for delivery.
Free Shipping

Get Free Shipping on qualified items without hidden fees. 

All Terrain Depot has Free Shipping everyday for most product purchases over $99, saving you some valuable cash on your ATV/UTV Accessory products. Some restrictions do apply.
Here's the details:
Free shipping offer is valid only on qualified items. Eligible items are identified on their product information page. They can also be identified in your shopping cart. 

Shipping method will be selected by All Terrain Depot. Free shipping orders will be delivered via a standard ground shipping method selected by our direct-ship manufacturers/fulfillment centers.  

Not available on international, Alaska, Hawaii, Puerto Rico or APO/FPO orders. Only standard ground shipping orders to residential and commercial addresses in the continental US are eligible for Free Shipping.
Lost or damaged shipments
Items will not be replaced or refunded until carriers perform their investigation. This period ranges from a few days to a few weeks.